About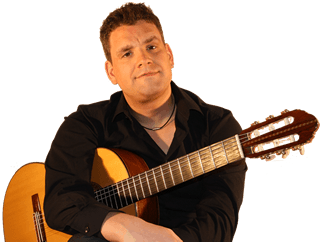 Oliver Thedieck is in demand as a soloist and chamber musician with a special focus on contemporary and South-American music. His concerts have been hugely praised by audiences on a national and international level.
Oliver works together with a great many composers and has performed numerous new solo and chamber music works. Permanent pieces of his repertoire are compositions by Jason R. Taylor and Ulrich Wedlich as well as a fruitful collaboration with Ralf Bauer-Mörkens a composer from Bonn, Germany which resulted in many recitals, recordings and new compositions.
For Florian Malecki, a Dachau-based composer, he successfully premiered his 9 studies for guitar in February 2008 in Brasilia, Brazil. The CD production and the printed sheet music –including a synopsis by O. Thedieck- is available from the label Dégagée. The same label published Oliver's new Solo-CD Sonatas and Variations in the same year.
Further composers Oliver worked with are Tom Johnson (Alexandrins for guitar), Graham Lack (5 Elegies), Alec Roth (Chinese Gardens for tenor voice and guitar) and Miroslav Tadic (Macedonian Dances for flute and guitar).
Oliver Thedieck has currently published four solo CDs. Further CD productions include recordings with the flautist Barbara Kahlert (CordAria), the tenor Frank Selzle (Canción y Cuerda) and the guitarists Colin Lang (Lang & Thedieck) and Armin Ruppel.
Oliver has given master classes at the academy of music Santa Marcelina in Sao Paolo (organised by the German Consulate) and at BRAVIO, a classical guitar society in Brasilia, Brazil. He was also invited to teach and perform at various institutions in Mexico by the German Embassy, Goethezentrum and the DAAD.